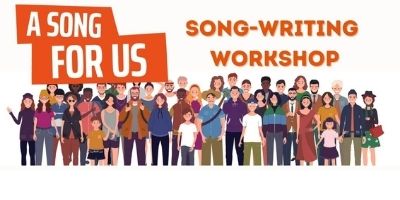 Join us and contribute to the process of writing a song, both words and music.
Led by musician Dan Baker (http://www.danbaker-music.com/), the workshop is
fully guided and is perfect for all young people aged 8 – 18, including
beginner song-writers and non-musicians.
We will work on lyrics, chords and a structure, and then perform it at the end. If you play a musical instrument bring it along to the workshop and we can integrate this into the final performance.
This workshop is part of the Song for Us Project – a national music project which celebrates our communities and the power of music to bring us together.
The song written by the group will be added to the A Song For Us music map (https://asongforus.org/)
Saturday 3rd July 10.30am – 1pm, Driftwood Cafe at the Baptist Church, Lyme Regis DT7 3NY