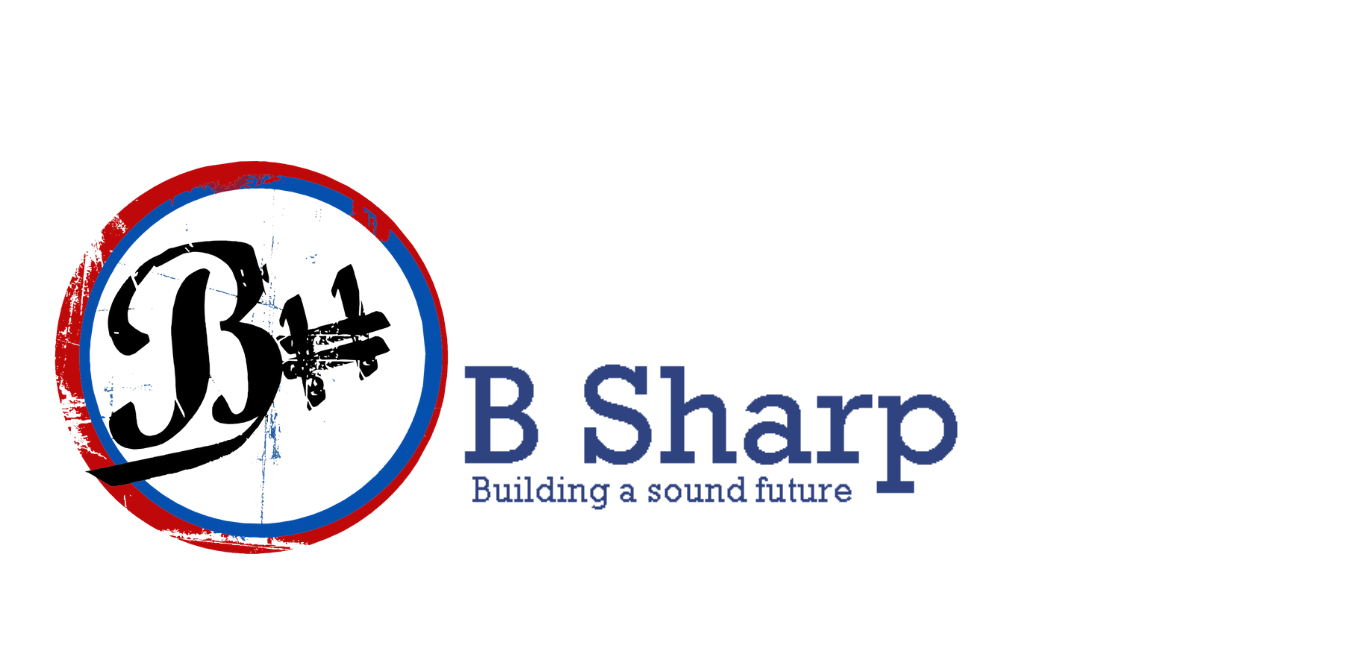 About Us
We are passionate about building a sound future for young people through music. We offer a broad, inclusive programme of music, singing, participation, creation, performance and development from early years to adulthood, and to young people from a wide variety of backgrounds across West Dorset, East Devon and South Somerset. We build personal, social, enterprise and leadership skills so participants and our young workforce of music leaders develop as people, musicians and citizens.
Our Story
B Sharp was founded in 2007 by Fran Williams, together with a group of young people and like-minded professionals. We are proud to have nurtured B Sharp from its small beginnings and now offer an extensive programme of music and training opportunities for children and young people right through to adulthood. We are passionate about working together in creating a culture where young people feel supported to take part in and contribute to their communities in enterprising ways, building a sound future for all.
Structure and governance
B Sharp became a registered charity in 2012, and is regulated by a Board of Trustees.
B Sharp's Chief Executive/Artistic Director, Ruth Cohen, provides day-to-day leadership, developing the scope and scale of the music charity's programming.
B Sharp contracts its Music Leaders, Support Workers and other professional support on a self-employed basis as funding allows, generally on a project-by-project basis. We are dedicated to offering ongoing support, mentoring and training to our music leaders ensuring that everyone can enjoy a quality experience at B Sharp. Young Music Leader trainees and Young Producers are
given a small allowance to help them train and work with us.
At B Sharp we have established a structured peer mentoring and youth leadership pathway which enables us to follow the progression of our participants and our music leaders. Consultation is important to us and we have regularly carried out research which has included widespread consultation with participants and their families, stakeholders, partner organisations, associates and critical friends, through various means such as surveys, focus groups and one-to-one discussions. Also, in accordance with our mission to give young people a voice, we welcome the participation of our Young Leaders in our strategic planning, and our Music leaders, support workers, producers and trainees are invited to the AGM/Board meeting and to take part in special focus groups to inform the shaping of the programme.
B Sharp has a network of associates, critical friends, consultants who help develop, review and add to the richness and diversity of the organisation and it's resources.
If you would like to join B Sharps board or team, and help to build a sound future please get in touch. Contact info@bsharp.org.uk or call: 07947 334138.
Vision and Mission
B Sharp's vision is that all children and young people have the opportunity to explore and develop their music skills and experience, increase their confidence and be valued for their contribution both as individuals and to wider society.
Through providing regular top quality music-making opportunities, B Sharp's mission is to bring out the strengths in young people irrespective of their musical ability by supporting and inspiring, building confidence, increasing self-esteem and promoting a sense of being part of something positive.
My son truly benefited from the project and made great strides in his music making, his commitment to learning and social interaction. I would say this is true for many of the group. The cost of not funding work like this is a lack of ongoing opportunity and associated risks
Contact B Sharp
+44 (0) 7947 334138
St Michaels' Business Centre,
Church Street,
Lyme Regis,
Dorset, DT7 3DB