It's been a fantastic summer and end of the academic year for B Sharp music charity culminating in two inspiring live music events across two towns; Summer Cabaret in Lyme and, in Bridport, Bridport Sounds, where hundreds of young musicians, showcased their talent Both events saw local musicians of all ages from B Sharp's regular projects Boombox, Hub Jams and Bridport Jams coming together for two nights of outstanding music, with B Sharp alumni Ellie Kirtley, Phoebe Townsend, Harvey Causley at Summer Cabaret, and local bands Pizza For Dogs, The Collaborators plus LaunchPad B Sharp's house band at Bridport Sounds.
Jacques Verhaeren event organiser in Lyme noted "It was amazing to see just how much our alumni, who came back to  perform their own music for us or help run the event, have developed in their own right as talented and passionate young singer songwriters, technicians and producers."
Bridport Sounds live gig was also an outstanding success with Bridport Jams and Pizza for Dogs supporting The Collaborators who were headlining. Ellie Walker Music Leader and event organiser said, "The bands were outstanding and the Arts Centre was a great venue to platform local musical talent. Each band was totally different but, they complimented each other really well and we had great feedback from the audience. These live gigs are such a great opportunity for young people to gain first hand experience either as performers, producers or volunteers – all helping feed into the local music scene and beyond".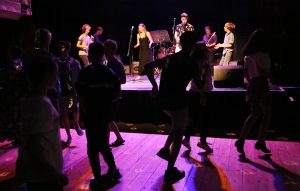 B Sharp works hard in the local area and region to ensure that these live music opportunities are available for young people,  as well as a range of professional training and support such as Sasha Mitchell's  vocal training and performance confidence workshops  and music tech workshops with Jack Kinslake ahead of the Summer Cabaret