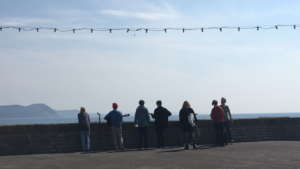 Sunday 1st May 6.30pm  –
Songs of Here: Songs of Now

Musical Performance by B Sharp and local community participants
Staged on the sea defences on Lyme Regis seafront, Songs of Here; Songs of Now is an exciting musical performance of original music and songs written by local young people. The performance expresses the young people's response to the landscapes, places and times in which they find themselves living and growing up – including the beautiful landscape of the Jurassic coast and Lyme Regis.
With guest performers Seaton Acapella.
This is a B Sharp event, facilitated by musicians Robert Lee, Ellie Walker, Ellie Kirtley and Leonie Prater. Supported by Dorset Community Foundation.