With One Voice
Singing Weekend in Lyme Regis
21st & 22nd April 2018, 9.30am – 4pm
An exciting weekend of group singing for adults hosted by B Sharp.
Come and develop your singing confidence in a safe and supportive environment. NO EXPERIENCE NEEDED!
The course will be led by World class musicians and vocal leaders; ​
Pete Moser, Sian Croose and Sasha Mitchell will lead you through a whole range of inspiring songs and vocal pieces packed with rhythm and harmony designed to get you singing together as a choir from scratch.
Each day will start with welcome refreshments and a group warm-up, followed by a singing session using music from around the world. This will be followed by a nourishing hot lunch. Master classes will be run in smaller groups each afternoon focusing on making new songs, improvisation, vocal harmony, rhythm for singers, tuning in – music and mindfulness, vocal health and making an impact. Afternoon tea and cake will be followed by a late afternoon group sing and feedback. There will be also be a stirring Saturday evening Concert by the Tutors which is free for participants.
All refreshments included: Tea, herb teas, coffee, water, biscuits, home-made soup and bread, cheese, fruit, cake and a Sunday Dorset Cream Tea.
A list of local accommodation and help with transport available on request.
£275 early bird price if booked before 25th February 2018, £300.00 thereafter.
Limited places.​
Booking
To Book using Paypal please use the form on the right.
To pay by cheque, please make it payable to B Sharp and send with booking form to B Sharp, Unit 5 Uplyme Road Business Park, Lyme Regis, Dorset DT7 3LS
T&C's apply (Click here to view)
Contact us via sasha@bsharp.org.uk
Tutors
Sian Croose is a singer and choir leader with over 30 years experience creating and directing music projects in the UK, and internationally. She is co-director of The Voice Project, developing large scale, site-responsive performances that bring together community choirs and professional performers in innovative pieces of choral theatre. She has run Big Sky, a 40 strong community choir that sings a broad mix of newly- commissioned and traditional songs from a wide range of musical sources for over 20 years. She is a founding member of Human Music, an octet performing original vocal music. As a composer, she has created Harmonium, a systems-based a cappella project for female voices which premiered in 2016 in Vocal Invention, as part of The Norfolk & Norwich Festival.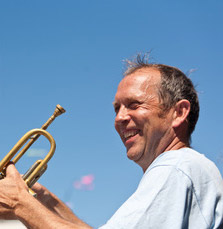 Peter Moser is a composer, performer, producer and facilitator and is the founder and Artistic Director of More Music, one of the foremost community music organisations in the UK (www.moremusic.org.uk). He has written scores for theatre, opera and dance projects as well as songs for large-scale choral and orchestral pieces. Peter is a multi-instrumentalist and teaches percussion, voice, brass and song writing as well as the art of running workshops.
His work over the past 24 years at More Music – based at The Hothouse in Morecambe, a seaside resort in the North West of England – has seen programmes involve thousands people of all ages in creative music making and performances.
One project, THE LONG WALK, was a response to the Morecambe Bay tragedy of 2004 has initiated a 10 year development of community music practice in Hong Kong and mainland China. He has worked as a vocal leader for over 30 years. He is also the Fastest-One-Man-Band-In-The-World: www.fastestonemanband.com.
Sasha Mitchell is a Vocal coach and confidence skills specialist and has worked as an actor and singer since the age of 16 in television and theatre and radio. She has worked with Pete Moser on several tours and concerts and their most recent work together was as support for Poet Lemn Sissay with their show "Love Songs of World War Three" showcasing the songs of Adrian Mitchell. She has been Lead Associate of Resonance Voice training for over 15 years and her voice work includes workshops run for The Wellcome Trust, Clean Break Theatre Co, the FCO, the Helen Bamber Foundation and of course, B Sharp. www.resonancevoice.com
Booking Form
[contact-form-7 id="3054″ title="With One Voice Booking Form"]