B Sharp Busking Festival 2020
We're holding our annual Busking Festival on Saturday 4th July 2020 this year.
Moving it to a later date in the year, after the exam season, will give more young people the chance to get involved, and won't exclude the many kids who are on family holidays away from Lyme Regis at half term. Moving to a later date will also create more space during the Jazz Festival in May for B Sharp and Jazz Jurassica to develop the young people's aspect of the festival – giving young people from across the region the opportunity to work with some of the amazing musicians that come and perform at Jazz Jurassica.
Come along and join in the musical takeover of Lyme Regis! Busk as a solo artist or bring your whole band. Bring your own instruments or have a go on our play-me-piano or play-me-drums.
Lyme Regis will be filled with music, with performances by young people as well as older musicians and groups. There will be workshops and activities for all ages including ukuleles, beach-hut jamming, drumming, crafts and a pop-up choir. Email today to book your busking slot, and put the date in your diary!
B Sharp's team will be there to greet and guide you. We would love you to take part!
If you would like to take part in any or all of the busking opportunities or make your own, please contact us. Booking is advised to secure your preferred time and place but you can turn up on the day and sign in at the Welcome Desk on the seafront in the Marine Parade Shelters.
Please support us
If you would like to sponsor us or make a donation: £100 would pay for the piano installation; £75 would pay for the drum installation and a £25 donation would contribute towards the costs of transporting young buskers to Lyme. With your support we can help more young people to take part in life changing musical experiences towards building a sound future.
Contact: info@bsharp.org.uk or call 07947 334138.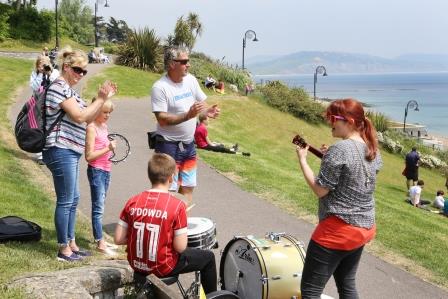 You get to do what you love, and you get to perform it to people and they love it too
and there's just such a nice feeling about that