Weekly Projects
B Sharp runs weekly sessions for young people age 8 – 18 to play music together across East Devon and West Dorset. Our creative ensemble sessions are inclusive, friendly and informal and offer opportunities for children and young people to sing, play instruments and create their own original tracks and songs.
We welcome all young people, whatever their abilities, level of experience or musical taste.
Sessions are led by our professional Music Leaders, and Learning Support Assistants provide pastoral support.
Our team of Trainee Music Leaders (age 15 – 25) provide aspirational peer leadership and support for younger participants.
For young people who are interested in performing, there are opportunities throughout the year.

  Hub Jams
Weekly relaxed sessions for young
people aged 11 – 18 to play music.

  Axminster Rock'n'Pop Club
Make music, play, sing & create
your own tracks for age 9-11

  Bridport  Boombox
Junior Music Club
for young people aged 8+

  B Sharp Housebound
Weekly relaxed sessions for young
people aged 14+ to play music

  Boombox
Weekly fun and creative music making
group for 8-11 year olds.

  Beats Collective
Online weekly music production sessions for young people aged 13-19
Click here to see
B Sharp's Covid19
Guidelines & Procedures
Contact B Sharp
B Sharp
St Michaels' Business Centre,
Church Street,
Lyme Regis,
Dorset, DT7 3DB
 

info@bsharp.org.uk

07947 334138

 
B Sharp is a Registered Charity. No.1149237
B Sharp is supported by:-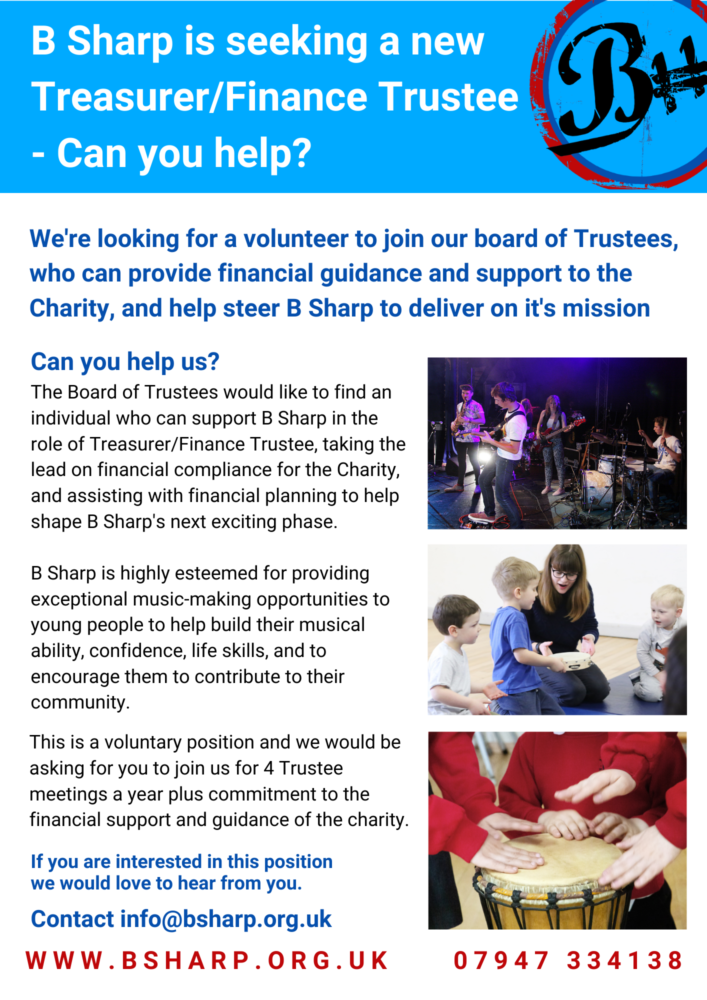 We are looking for a volunteer to join our board of Trustees who can help us steer B Sharp to deliver on it's mission, whilst providing sound financial support and guidance. For more information and job role description see: B-Sharp-Treasurer-Role-Description_2022.pdf...