B Sharp On-line Busking Festival 2020
Due to the current coronavirus situation unfortunately we had to postpone our annual Busking Festival which was planned for Saturday 4th July 2020.  It is usually held along our beautiful beach front in Lyme Regis, where musicians are invited to perform for a set time at one of our many busk 'stops'. We also have a main performance area where our talented young musicians and trainees perform music created at our weekly sessions.
As we have been unable to meet recently, we created a different event to still bring music to all and involve as many as we could – our On-line B Sharp Busking Festival!
We started the day with Little Bs, an early years session for the under 5s, featuring songs and musical activities, followed by a pop-up choir/singalong with Ellie Walker.
The afternoon was filled with live or pre-recorded videos from a variety of musicians. We really wanted it to be a celebration of music past and present and if you have a listen we think we achieved our aim.
Our Busking Festival is usually a good fundraiser for us.  Thanks to generous contributors we raised £200 on the day.
We'd still welcome any donations to B Sharp via our JustGiving page to help keep us going through this difficult period.
Please support us
Contact: info@bsharp.org.uk or call 07947 334138.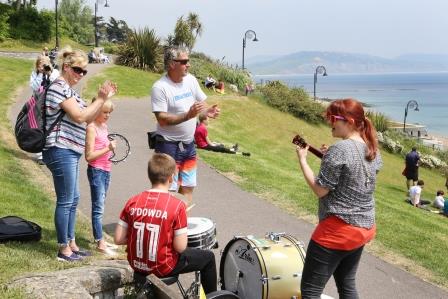 You get to do what you love, and you get to perform it to people and they love it too
and there's just such a nice feeling about that