Sun, Sea and Great Sounds
B Sharp Busking Festival, Play Me Piano & Drums 2018, Saturday 26th May 2018–
(in association with the Jazz Jurassica Festival)
A fantastic variety of buskers, young bands, drummers, saxophonists, a school choir, pianists, singer- songwriters, music producers and beat boxers from the local area and further afield performed to happy cheering audiences at the 2018 Busking Festival.
For 7 hours between 11am to 6pm the streets were alive with music. Audiences were treated to sunshine, sea, and great sounds from some amazing street artists and buskers of all ages with an exceptional wealth of talent on display. B Sharp's music leaders and young trainees were on hand to support and jam with them as well as offer the tec support needed. To help with its costs of running B Sharp's on-going music programme for young people over the whole year, buskers happily donated 40% of their collection to B Sharp charity. Many donated all their takings.
Kelly Osborne one of the event organisers noted, "We set up Play me Piano in the shelters and a PA for a band, and all day young emerging musicians came along and showcased their music. The beauty was there were so many surprises where people, some who had never played before, were brave and were taking to the stage and wowing the audience with their music. Alongside were professional maestros who just love to join us, offering their support for the next generation of musicians.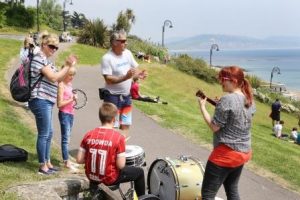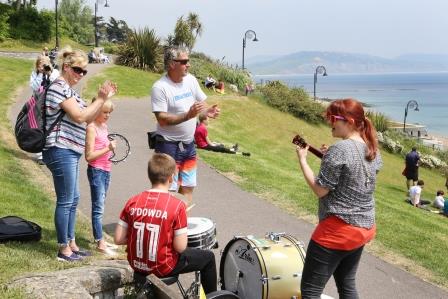 The Busking on Saturday, was 'sandwiched' in between the popular Jazz Jurassica creating an amazing weekend of music. "Our Festival, and the weekend was a shining example of just how good things can be in communities when people work together to make it happen," commented Fran Williams CEO of B Sharp, "The Busking Festival is one of our most popular and favourite events and the fact that it coincides with the brilliant action packed Jazz Jurassica makes it all the more worthwhile. Our buskers performed either side of the likes of the James Taylor Quartet, Georgie Fame and Liane Caroll."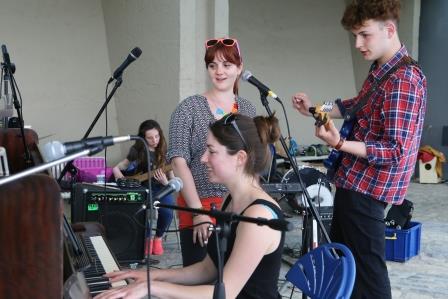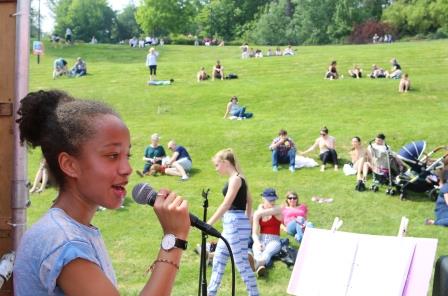 "You get to do what you love, and you get to perform it to people and they love it too
and there's just such a nice feeling about that"
– B Sharp Busker