A programme to support, nurture, and discover the next generation of music industry professions – performers,
producers and technical and stage managers.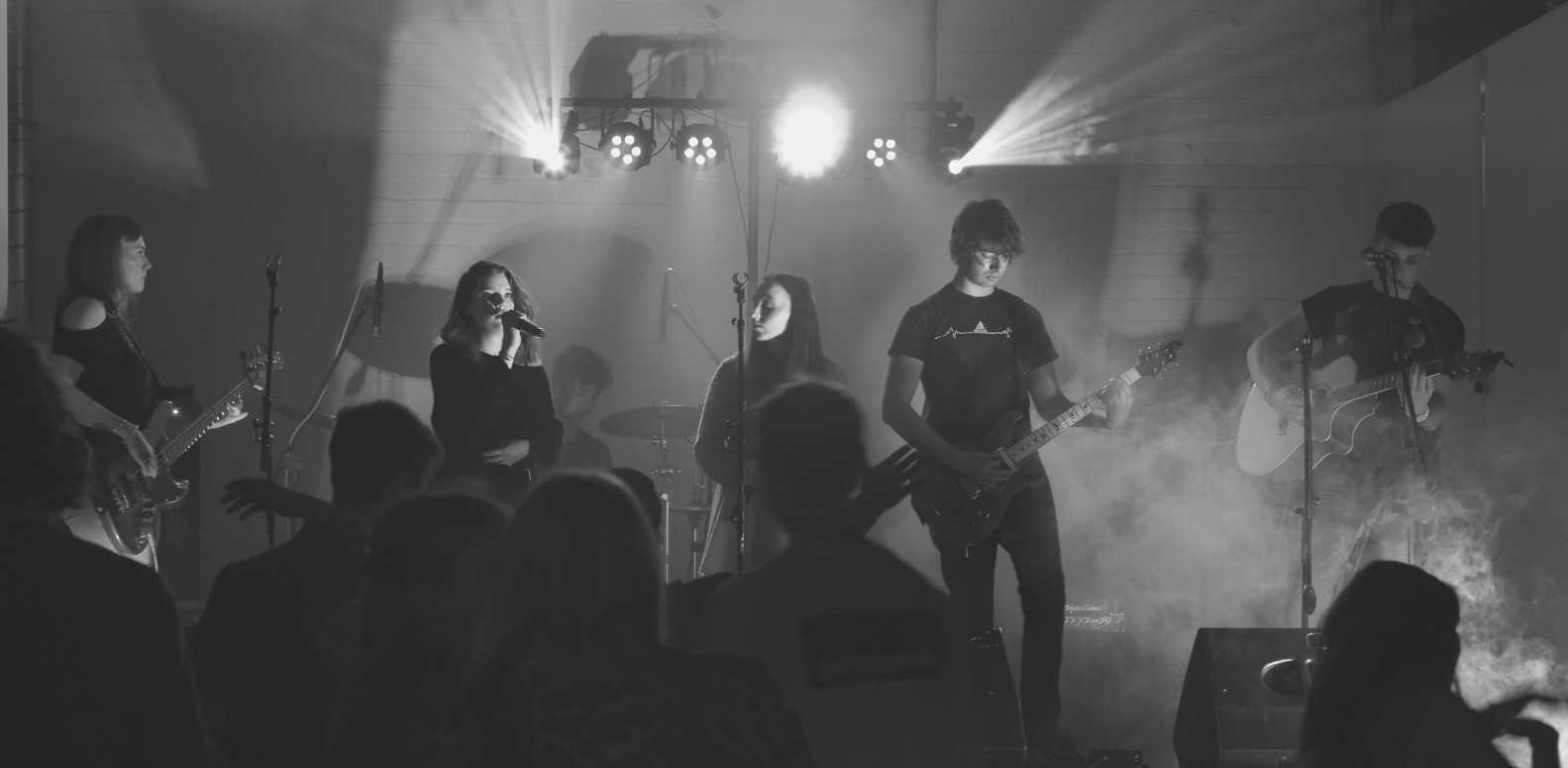 Young Performer & Band Mentoring sessions
Are you a young musician looking to take your performance to the next level? B Sharp are offering FREE mentoring sessions with professional musicians to help you develop your sound. Suitable for young people aged 16 – 25, either solo performers or bands. To book a session – email info@bsharp.org.uk
Sunday 16th Jan
Sunday 13th Feb
Sunday 13th March
12 – 2pm at the Marine Theatre, Lyme Regis
Monday 14th Feb
Monday 28th Feb
6pm – 9pm at the Marine Theatre, Lyme Regis
other times available by arrangement – please email info@bsharp.org.uk
Young Creatives Sunday Sessions
If you are a young musician aged 16 – 25, and would like the opportunity to perform at the Marine Theatre, come and take part in one of the Young Creatives open-mic sessions, supported by a professional music leader. Sessions are relaxed and friendly, and suitable for first time performers as well as those that have performed before. Please pre-book so we can ensure there is time for everyone who wants to play. To book a performance slot – email info@bsharp.org.uk
Sunday 16th Jan
Sunday 13th Feb,
Sunday 13th March,
Sunday 10th April,
Sunday 15th May,
Sunday 12th June
3pm – 5pm at the Marine Theatre, Lyme Regis
Young Creatives Big Gig
Friday 1st April 7pm Marine Theatre
Would you like to learn how to put on music events? Join our team of young producers for the Young Creatives gig, and help create this amazing showcase of local young talent. You will be mentored by a professional producer and will have the opportunity to develop skills in planning, production and marketing events.
To apply to be part of the production team – email info@bsharp.org.uk

The Young Creatives Programme is funded by Arts Council England, and
is a Marine Theatre and B Sharp partnership project.

Contact B Sharp
B Sharp
St Michaels' Business Centre,
Church Street,
Lyme Regis,
Dorset, DT7 3DB
 

info@bsharp.org.uk

07947 334138

 
B Sharp is a Registered Charity. No.1149237
B Sharp is supported by:-

Thank you to all our young performers at Sunday's Young Creatives open mic session at the Marine Theatre. The talented young people all had very different levels of performance experience - for some it was their first solo public performance - but all were able...