Boom Box is a weekly jam session at The Hub for young people aged 8-11 years to come together after school to play, make new music and friends along the way. Musical games, singing, playing instruments, and making new music, in a fun and friendly environment.
Enjoyable sessions that build musical skills, develop confidence and social skills.
All musical tastes and abilities are welcome.
Thursdays afternoons from 3.45pm – 5.00pm term time.
Dates …
Summer First Half Term 2021
(5weeks)
April 29th
May 6th, 13th, 20th, 27th
 Summer Second Half Term 2021
(6 weeks)
June 10th, 17th, 24th
July 1st, 8th, 15th
At The Hub, Church Street, Lyme Regis, Dorset, DT7 3BS
Cost
Full half term in advance
Summer first half term 2021
5 sessions £30.00
Summer second half term 2021
6 sessions £36.00
B Sharp has concessions and subsidised places available. We want to include all young people who want to make music, whatever their financial circumstances. Please email
ruthcohen@bsharp.org.uk, phone 07947 334 138, or speak to a music leader in confidence to to let us know if you need a subsided place.
Payment:
by payment link which will be sent to you after registration
Boom Box for ages 8-11,
Jam, play, make new music and friends along the way.
The best thing is making friends, playing instruments, and seeing what other instruments other people play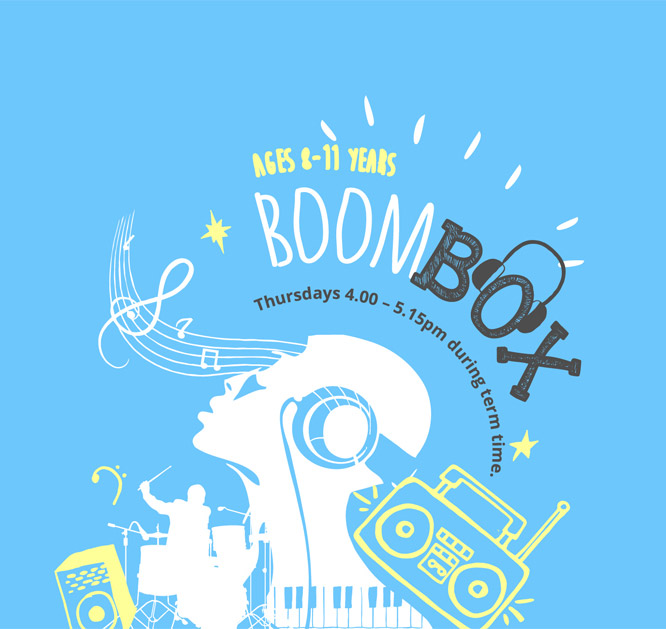 B Sharp is supported by:-

Contact B Sharp
Email us at: info@bsharp.org
+44 (0) 7947 334138
St Michaels' Business Centre,
Church Street,
Lyme Regis,
Dorset, DT7 3DB