Performance Opportunities
A programme to support, nurture, and discover the next generation of music industry professions with opportunities for performers, producers and technical and stage managers.
Click here to see more information about our Young Creatives opportunities
B Sharp runs a HouseBand, which is available to perform at events, festivals and private functions.
B Sharp also has links to a pool of young talented musicians and bands from the area (B Sharp and beyond), and can help match excellent young bands, buskers and performers to local and regional events.
Click here to see more information about B Sharp Houseband
B Sharp's annual Busking Festival will take place on Saturday 2nd July 2022, on the beautiful seafront at Lyme Regis.
Every year we fill Lyme Regis with music, and our talented young musicians and Trainees perform music created at our weekly sessions.
They can also busk at one of our busking 'stops' throughout the town. We invite other buskers and performers to join us too – with a special invite to other young musicians from the region.
There is an open mic slot, a play-me-piano, and opportunities for people of all ages to join in with activities, workshops and scratch performances.
We would love for you to join us!
Click here to see more information about our last Busking Festival in 2021
To apply for a Busking Spot at this year's festival click here.
Contact B Sharp
B Sharp
St Michaels' Business Centre,
Church Street,
Lyme Regis,
Dorset, DT7 3DB
 

info@bsharp.org.uk

07947 334138

 
B Sharp is a Registered Charity. No.1149237
B Sharp is supported by:-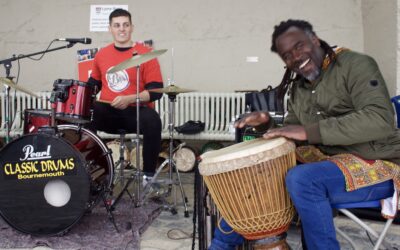 B Sharp is looking to recruit freelance music leaders to join our team and to work on projects across West Dorset, East Devon and South Somerset. We are looking for music leaders/facilitators to deliver group music making...