Summer Song writing Workshop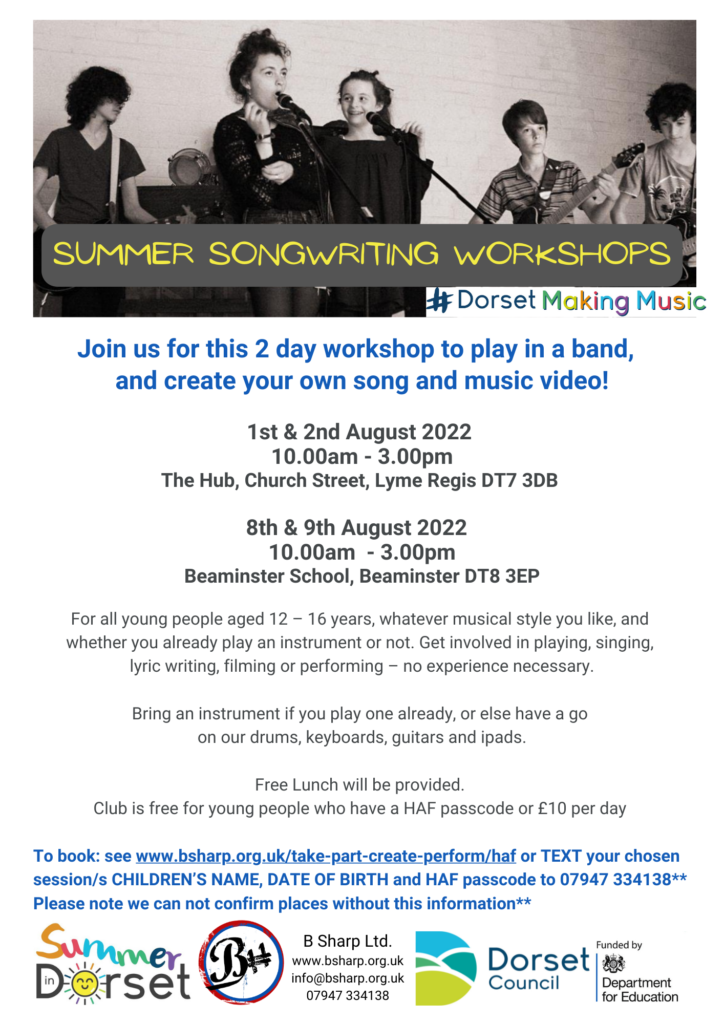 Join us for this 2 day workshop to play in a band, create your own song and music video!
1st & 2nd August 2022
10.00 – 15.00
The Hub, Church Street, Lyme Regis DT7 3DB
8th & 9th August 2022
10.00 – 15.00
Beaminster School, Newtown, Beaminster DT8 3EP
For all young people aged 12 – 16 years, whatever musical style you like, and whether you already play an instrument or not.
Get involved in playing, singing, lyric writing, filming or performing – no experience necessary.
Bring an instrument if you play one already, or else have a go on our drums, keyboards, guitars and iPad.
Free Hot Lunch will be provided.
Club is free for young people who have a HAF passcode.
To book: Click here to complete our short booking form or TEXT your chosen session/s CHILDREN'S NAME, DATE OF BIRTH and HAF passcode to 07947 334138
**Please note we can not confirm places without this information**
All sessions are FREE to children and young people who have a Dorset Council HAF (Holiday, Activities and Food) passcode.
Young people without a HAF code are welcome also!  £10 per day.
Contact B Sharp
B Sharp
St Michaels' Business Centre,
Church Street,
Lyme Regis,
Dorset, DT7 3DB
 

info@bsharp.org.uk

07947 334138

 
B Sharp is a Registered Charity. No.1149237
B Sharp is supported by:-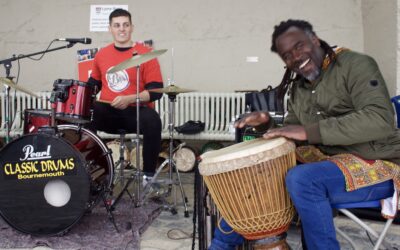 B Sharp is looking to recruit freelance music leaders to join our team and to work on projects across West Dorset, East Devon and South Somerset. We are looking for music leaders/facilitators to deliver group music making...