B Sharp's Busking Festival 2022
Our annual Busking Festival took place on Saturday 2nd July 2022, along the beautiful beachfront in Lyme Regis. 
Buskers of all ages braved the windy weather and drizzle and busked along the seafront and in the gardens. B Sharp's young participants and trainees performed music created in our weekly sessions and entertained parents, locals and visitors in the Shelters performance area. 
There were also activities for children, young people and families to get involved with during the day including a young people's pop up choir, early years music, beach hut jamming and craft activities as well as the amazing Cheikh Diop of Rhythm Generation who led two drumming circles which were enjoyed by everyone.
Thank you to all our participants, parents, volunteers, music leaders, trainees and supporters who made it possible!
If you would like to apply to busk at next years festival please see the link below.
Link to Event Access Guide here
Click here to see more information about our last Busking Festival in 2021
Apply for a Busking Spot here …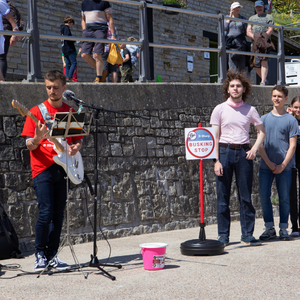 Read our Terms & Conditions here …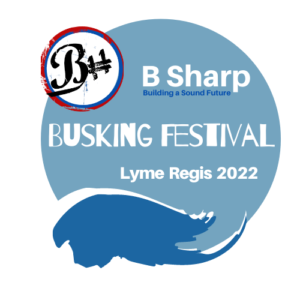 Can you volunteer to help us on the day?  Click here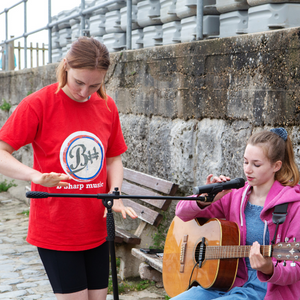 See our previous Busking Festival Video …
We were delighted to be able to run the popular Busking Festival on the Seafront this year as last year it was held online.  We were lucky that we were able to run it as a covid-safe event.  It was really lovely for the young people to be able to perform again, after such a long time.
You get to do what you love, and you get to perform it to people and they love it too and there's just such a nice feeling about that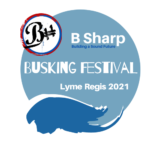 Contact B Sharp
B Sharp
St Michaels' Business Centre,
Church Street,
Lyme Regis,
Dorset, DT7 3DB
 

info@bsharp.org.uk

07947 334138

 
B Sharp is a Registered Charity. No.1149237
B Sharp is supported by:-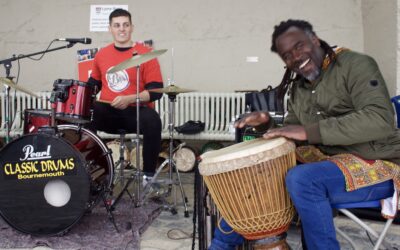 B Sharp is looking to recruit freelance music leaders to join our team and to work on projects across West Dorset, East Devon and South Somerset. We are looking for music leaders/facilitators to deliver group music making...