B Sharp's Annual Busking Festival 2022
Saturday 2nd July 2022, on the beautiful seafront at Lyme Regis.
Every year we fill Lyme Regis with music, and our talented young musicians and Trainees perform music created at our weekly sessions.
They can also busk at one of our busking 'stops' throughout the town. We invite other buskers and performers to join us too – with a special invite to other young musicians from the region.
There is an open mic slot, and opportunities for people of all ages to join in with activities, workshops and scratch performances.
We would love for you to join us!
More information about this years festival will be coming soon.  If you would like to apply to busk at the festival please see the link below.
Click here to see more information about our last Busking Festival in 2021
Apply for a Busking Spot here …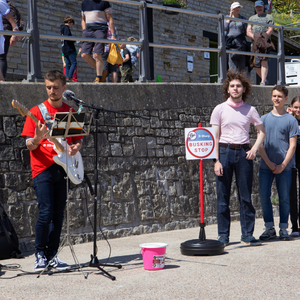 Read our Terms & Conditions here …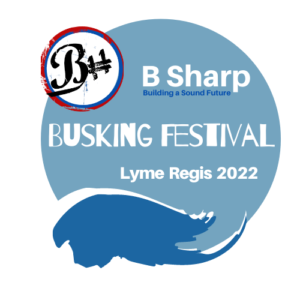 Can you volunteer to help us on the day?  Click here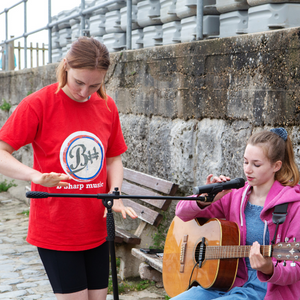 See our previous Busking Festival Video …
We were delighted to be able to run the popular Busking Festival on the Seafront this year as last year it was held online.  We were lucky that we were able to run it as a covid-safe event.  It was really lovely for the young people to be able to perform again, after such a long time.
You get to do what you love, and you get to perform it to people and they love it too and there's just such a nice feeling about that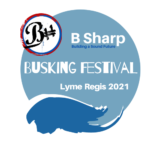 Contact B Sharp
B Sharp
St Michaels' Business Centre,
Church Street,
Lyme Regis,
Dorset, DT7 3DB
 

info@bsharp.org.uk

07947 334138

 
B Sharp is a Registered Charity. No.1149237
B Sharp is supported by:-

Sunday 1st May 6.30pm  - Songs of Here: Songs of Now Musical Performance by B Sharp and local community participants Staged on the sea defences on Lyme Regis seafront, Songs of Here; Songs of Now is an exciting musical performance of original music and songs written...