B Sharp's Busking Festival 2021
Our Busking Festival is taking place on Saturday 3rd July 2021.
It is held along our beautiful beach front in Lyme Regis, where musicians are invited to perform for a set time at one of our many busk 'stops'. We also have a main performance area where our talented young musicians and trainees perform music created at our weekly sessions.
If you'd be interested in taking part this year please complete our application form below.
Looking forward to  bringing back the music to Lyme Regis this summer!
Join us and contribute to the process of writing a song, both words and music. Led by musician Dan Baker (http://www.danbaker-music.com/), the workshop is fully guided and is perfect for all young people aged 8 – 18, including beginner song-writers and non-musicians.
Click here for more information and to book tickets …

B Sharp's 
Pop UpChoir
Pop Up Choir is back! We will be at the B Sharp Busking Festival on Saturday 3rd July 2021.
Click here for more information and to book a ticket to join us …

Sound Recording & Effects Workshop
Come and take part in a sound recording workshop with Musician and Recording
Engineer Tom Hughes.
Click here for more information …

B Sharp's
Busking Festival 2021
Application Form …

B Sharp's
Busking Festival 2021
Terms & Conditions

Keeping you safe is our top priority and this section includes information on all the covid measures we will be implementing. We will be staging a covid-secure festival.
Click here to see our guidelines to keep us all safe at the Busking Festival.
See our previous Busking Festival Video …
You get to do what you love, and you get to perform it to people and they love it too and there's just such a nice feeling about that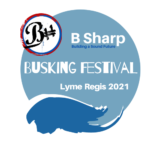 Help! We need volunteers to help us on the day at our festival welcome and information desk, and as stewards for busking spots.
Email us at info@bsharp.org.uk if you can help!
Contact B Sharp
B Sharp
St Michaels' Business Centre,
Church Street,
Lyme Regis,
Dorset, DT7 3DB
 

info@bsharp.org.uk

07947 334138

 
B Sharp is a Registered Charity. No.1149237
B Sharp is supported by:-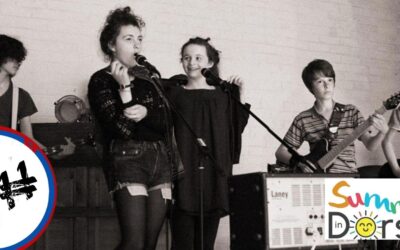 Come along to B Sharp's Summer Music Club for 4 days of musical creativity, from 10th -13th August. Join us to play in a band, and make your own track or song, as well as a music video! For all young people aged 10 - 16 years, whatever musical style you like, and...